I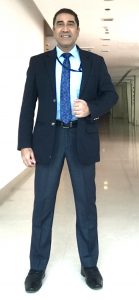 come with over 26 years of experience, first 10 years in the field of sales with the last 16 years diversifying as a successful freelance behavioral facilitator and leadership coach having MBTI certification.
I feel privileged and honored that more than 20000 participants from all around the country have experienced my facilitation through various training programs of mine.
With a customised delivery style, as a facilitator, I take great pride in my strength in establishing a personal connect with the participants.
My training sessions are a huge learning experience for the participants as they stand to gain not only from my good communication skills, pleasant and positive personality, but also diverse knowledge in understanding the inter-disciplinary skills of the company and its employees alike. A friendly approach that lends an understanding connect with senior management coupled with a contemporary outlook I can be an asset with the younger lot.
I'm grateful to the regular compliments from my participants and clients on my professional approach, motivational and communication modules, effectiveness enhancement modules and smooth delivery style etc.
Look forward to adding value to your skills and expertise.